The Rev. Janet Wheelock
from the Memorial Celebration of the life of Robert, Ana-Maria, Sam and Veronica
July 31, 2011
By way of beginning, I have just a few words about this loss.  Words are a weak medium but we lean on them hard to help us express the inexpressible:  four precious lives gone from the world. There are questions which linger for which we have no satisfactory answer.  One is why, (if there be a loving creator and protector of the universe,) can such young, healthy, active lives suddenly end in a horrible car accident?  The second is, where are Robert, Ana-Maria, Sam and Nica now?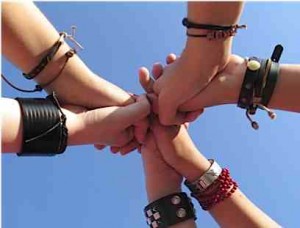 What I have to offer is this:  This tragedy is not the will of God.  It is not here for us to learn something from.  It is a disaster beyond our understanding. There is no silver lining in this cloud of loss and pain.  Except in the floodgates of love that have opened from you to one another. This reveals that underlying all is what we could call the Grace Grid.  Every act of kindness, generosity and prayer our communal grief inspires lights up the grid.  It just takes time to discover all the ways it's working supporting, sustaining, refreshing, healing the broken heart.  Every time you offer a plate of cookies or a ride or send a card or a check or give a hug or share a story the grace grid lights up – and it gets brighter.  Imagine how it looks, like flying over New York City or Toronto or Rio at night.
As to where our friends have gone, all world religions have their understanding of that and we rely on our faith traditions for help.  But as loss reverberates into the deepest parts of our being, beyond Palo Alto, across California, spilling into the world it is up to us to rebuild hope, to refuse to fear "who will be next", to help our children accept that death and life walk next to each other. Ana-Maria, Robert, Nica, Sam are everywhere beauty and vitality, integrity and joy are found.
Thus our time together today is our modest human attempt at saying:  There's no right or wrong way to grieve, Love never dies.  We are all one. Our connection on the grace grid continues long after we see, touch and hear one another no more.