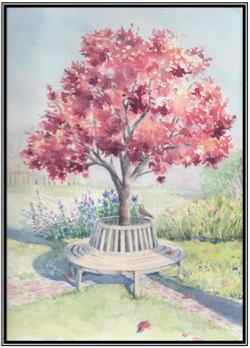 With your help, El Carmelo Elementary School will soon have a beautiful gathering spot for friends, old and new, to enjoy—a welcoming place for all, in honor of one El Carmelo family, gone now but never forgotten.
Thanks to a grassroots, community-led effort, in partnership with Principal Chuck Merritt, plans are underway to plant a tree on the grass near the handball courts near Room 20. A sturdy, well-designed wooden bench will encircle the tree. More than just a landscaping project, this is a tangible, lasting way to celebrate the lives of former El Carmelo PTA President Ana Maria Dias, her husband Robert Howard, and their two treasured daughters, 11 year-old Samantha, and 9 year-old Veronica – a family that for years embodied the love, creativity and kindness that are at the heart of our school.
Last July, while traveling in their family camper on vacation in Canada, Ana-Maria, Robert, Nica and Sam, died in a terrible crash when a truck driver somehow lost control and swerved into their lane. Immediately following the accident, people throughout our community generously and selflessly did everything they could to help the family's relatives, as well as our many grieving children, and each other—just as Ana Maria, Robert and their girls would have done for any one of us.
"The maple tree and the bench surrounding it will have a central location on the El Carmelo campus representing the way that this dear family had a 'central' impact on our school," said Principal Chuck Merritt. "Their love and service intersected the lives of many groups of parents, staff and students, bringing us all together. The memorial bench will be a lovely place to rest and shelter beneath a beautiful shade tree, reminding us of the caring for people that Ana Maria, Robert, Sam and Nica helped to make part of the abiding culture of this school."
In fact, that is why this "living" memorial is so fitting: the family loved nature, and for all of them, a stranger was just a friend they had yet to meet. Ana Maria always made a point of asking and remembering people's names. She and Robert took the time to walk new families to school. From creating a community-wide art festival to organizing lunch-time arts and crafts activities, and so much more, Ana Maria brought joy, passion, intellect, leadership and conviction to our school every day, as she dedicated herself not just to her own two children, but also to all children.  Daughters Sam and Nica brought that same life-affirming spark for empathy, fun and friendship. Whenever Ana Maria and Robert saw a need, they answered it—without ever putting the spotlight on themselves. In fact, my hunch is that they would perhaps want us to think of this memorial as a place to celebrate not just their family, but truly all families, along with all the beloved members of our El Carmelo extended family who are no longer with us. Ana Maria and Robert believed in including everyone, and that's why the circle design for the memorial bench feels just right.
The project price-tag is an estimated $5000. Donations of any amount may be dropped off at the El Carmelo office, (3024 Bryant Street, Palo Alto, 94306), with checks made out to El Carmelo PTA-Howard/Dias Memorial. Organizers say if they are fortunate enough to raise the necessary funds, any additional donated money will be given to Partners in Education, and to PreSchool Family, the nurturing infant, toddler and pre-school cooperative program where Sam and Nica thrived throughout their earliest years before coming to El Carmelo.
For the relatives of the Howard-Dias family, and for the hundreds of parents, children and community members who personally knew Ana Maria, Robert, Nica and Sam, the tragedy brings forth many challenging questions: how do we find meaning in this incalculable, shocking loss? Going forward, what lessons do we teach our children? How do we make sense of something so senseless and so sad? In the words of one close family friend, Suman Gupta, "My family loved this family very dearly and the only consolation in having lost them is that we first had the good fortune to know them."
For Suman and her children, and for so many others, the memorial will be a place to celebrate the gift of four good people, and the lessons they taught in life and in death. "Each one had a special way of caring for and creating bonds with their friends and their community," said another close friend, Andrea Christensen. "I always felt valued and appreciated in little ways that made me smile and laugh and also in more significant ways that made me realize the depth of their generosity and compassion. The honest conversations and heartfelt sharing brought our families together."
The hope is that this tree and bench will help bring more families together, and not just the families that knew Ana-Maria, Robert, Nica and Sam, but all families throughout our community, now and for many years to come. For that to happen, all you have to do what this family did throughout their lives: keep your eyes and heart open, and if you ever see someone—large or small—who could use a friend, be that friend. And what better place for friendships to flourish than at our very own "giving tree", inspired by a family that brought love to life every day.
For more information, contact Michele Kasper, mekasper63@gmail.com, (650) 858-1807. To read complete tributes from family and friends, or write one of your own, please visit www.robertandanamaria.com