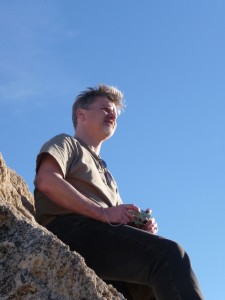 Robert Howard was a gifted engineer, an energetic host, and a devoted father. The long-time Palo Alto resident loved nothing more than motorcycling off-roads in a deserted natural environment or tinkering with an old car in his garage in midtown Palo Alto.
Howard, the vice president of engineering for San Francisco-based Lunar, an engineering and industrial design firm, died along with his wife and two daughters in a car accident while vacationing in Kootenay National Park, British Columbia, Canada. He was 48.
Howard was born December 28, 1962 in Boston, Mass, while his father, Ronald was teaching at the Massachusetts Institute of Technology. He was the youngest of four children and his sister, Kim Saxe, remembers that Howard was special, right from the start. "He was highly intelligent and had a memory like an elephant," Saxe says. When Howard was just 8, the family spent a year traveling in Europe during his father's sabbatical. Friends tried to tell his parents that he wouldn't remember anything from the trip because he was so young. Years later, he could still recall the names of each campsite and what they did there. "He had a prodigious memory," Saxe says.
When Howard was 3, the family relocated to Palo Alto, when his father joined the faculty at Stanford. The younger Howard attended the Peninsula School in Menlo Park, Jordan Middle School in Palo Alto, and Palo Alto High School. He graduated in 1980. Howard followed his siblings to Stanford, earning a bachelor's and master's mechanical engineering, in 1984 and 1986, respectively.
Howard joined Apple at the time of its first renaissance of product design, remembers his brother John, who was also there at that time. Howard became part of the division responsible for printers and display monitors – basically the stuff that goes around the computer. Early on he was awarded a patent for a tilt and swivel stand and then earned several more in quick order. His reputation was that of a really sharp, go-to guy who could get a project back on track.  "He was always 'Robert, don't call me Bob,'" remembers John Howard. Though he didn't make a big deal of it, that's how he became know:  "Always Robert. Just Robert."
Likewise, at Lunar, Howard took a lead role running the engineering group – a complicated slot that involved some sales, some engineering, and lots of creativity. He helped maneuver the company into more involvement in the burgeoning field of medical design. As a boss, Howard had a reputation for being  "wicked fast, smart, funny, but always kind," says John Howard. "He wasn't one of these guys who would take you down a notch when you hadn't done something right." As a result, his workforce was amazingly stable, full of people who, once hired on, rarely left. That was true for Howard, too: "He came in, it worked, and he stayed," recalls John Howard.
Howard had a gift for and love of design well before he landed at Apple. "He was making things and making projects from when he could hold a screwdriver," John Howard recalls. His work was impeccable: "things that he made with a hand tool looked like they were machined." He wasn't a mere tinkerer, either. He was constantly optimizing things, especially his beloved four-wheel-drive jeep. Howard shared this gift for design by returning to Stanford to teach product design classes.
Early in his time at Lunar, Howard began a tradition of going camping each year with his brother John and several of their male friends. They usually headed for the Eastern Sierra Nevada and then down toward Salina Valley, in the Mojave Desert, says his sister-in-law, Cindy Howard. He also loved the trips the whole extended family took each year: to Cambria at Thanksgiving and to Death Valley at Christmastime.
By 1996, when he began at Lunar, Howard had already met the woman he would marry: Ana-Maria Dias, a bright, gracious, artistically gifted woman who came to the United States when her family fled war-torn Angola during the late 1970s.
The couple met at a party and Howard was smitten, but Dias was involved with someone else. The next time they met, though, she was again single and a romance began. "It was quite a match," Saxe says. "He hit gold with this one." They were a particularly good fit intellectually – on camping trips, they would bring along a dictionary and look up words and engage in passionate discussions about them.
Their daughter Samantha, who went by Sam, was born in 1999, followed two years later by Veronica, who everyone called Nica. Saxe says one of her final conversations with her brother was about how excited he was that Nica was expressed an interest in trying off-road motorcycling. Within the last month he took her to try, out to Hollister State Vehicular Recreation Area – and she absolutely loved it. Howard was over the moon, Saxe recalls.
Howard is survived by his father, Ron, of Palo Alto, his sister Kim Saxe and her husband, Tim, of Los Altos, his brother, David, of Menlo Park, his brother John and his wife Cindy of Palo Alto; a nephew, Andrew, of Palo Alto; three nieces, Amanda, Laurel, and Gwen, of Palo Alto; and an uncle, Burton Hatheway, of Bridgeport, Conn. He is predeceased by his mother, Polly, who died in 1997.