By Linda Howard, Counselor at JLS Middle School
Good evening distinguished guests, the JLS Staff, parents and family members, and the 8th grade class of 2013.
After 540 days, twenty Kleenex boxes, dozens of miles walked or run on campus (this includes running the mile in P.E.), eating hundreds of school lunches and brunches, twelve dances, and listening to thousands of words from your teachers, we find our selves gathered a final time to celebrate the passage from middle school to high school. I have had the opportunity and honor of being your counselor for the past 3 years.
This is my last time to talk to you as your counselor. Listen, I am going to tell you something important….
Each one of you has gifts to offer the world.
As you enter an ever more expanding world of high school and beyond, you will have the opportunity to act with integrity or not. On a daily basis, you can make small decisions to do what is right such as treating a person with respect and standing up for someone who is being treated unjustly. Make kindness and respect for others a habit. MLK conveyed this message by saying, "In the end, we will remember not the words of our enemies, but the silence of our friends." You will never go wrong when you choose to act with integrity.  Standing up for what is just is a gift that each one of you can give.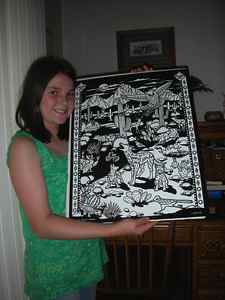 Tonight I'd like to honor a young person whose words and actions inspired the people who knew her. Samantha Howard would have been seated here tonight with the 8th grade graduating class, but she passed away between her 6th and 7th grade year. During the 6th grade she joined and was active in the BeTCha student advisory group. This group develops ideas and creates activities to promote a positive school climate.
Sam's kindness, energy and activism inspired her friends to join BeTCha and continue the good work she started. The way Samantha lived her life was her gift to all who knew her.
Acting with kindness and respect toward others sets a powerful example. It is a gift that each one of you can give.
I would like to read a poem that Samantha enjoyed when she was only eleven years old. The poem is entitled  "Love is a Place"
Love is a place
And through that place of love
moves with brightness of peace
all places.

ee cummings
JLS has been your place for the past 3 years. You may not have always realized it, but you have moved through a place of love. Your teachers, administrators and counselor have always loved and cared for you. We continue to wish you the very best as you journey to the next place.
And now for the moment you've all been waiting for…. the presentation of the promotion certificates for the class of 2013.
.