From Crazy Robert's World of Fun – celebrating our third year in the beautiful Cloverdale Terrace subdivision:
MOFFETT FIELD NAS GOING OUT OF BUSINESS SALE/PARTY!
LOST OUR MANDATE! EVERYTHING MUST GO!

After 60 years of quality anti-submarine warfare for the peopleof Mountain View, Moffett Field is closing its doors forever!
We're blowing it up out to the bare walls for one day and one day only! Nothing will be spared! Just pennies on the dollar!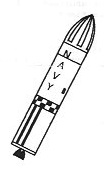 Bring your checkbook! Or just something to barbeque (BYOM)! Come to Crazy Robert's Sale HQ, Airshow, and BBQ at Emily Drive in Mountain View, on 17 October, 1200-2200 hours – come early for best selection!
Or shop by phone: RSVP's are welcomed, call 415-967-1686 (secure line).
Bring the whole family!
International arms merchants welcome! We offer favorable conversion rates!
Free surveillance ballons for the kids! (limited to stock on hand)
No rainchecks will be honored.
All sales final.
Getting there is easy! Just hand this chart to your NAVCOM!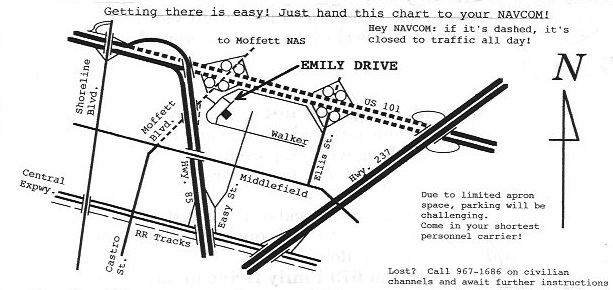 Check out these authentic WW II/Cold War artifacts:
P-3 Orions – some in original box!
Nuclear torpedoes – expand your sphere of influence – make new friends!
Hangars – great for projects: factory warranty!
Runways – cash and carry – be the first on your block!
Sonobuoys! Sonobuoys! Sonobuoys!
The Blue Angels – Clean! Low miles! See 'em in action!

NEW! – USED! – DEMOS! – BLEMS! – REFURBS!
No reasonable offer refused!
Everything is out on the apron for your inspection. Find what you need, then come make your best deal!
From Robert, 1992. Happy Birthday, Robert. We love and miss you.