From Ron Howard, Robert's father
Thank you all for coming. Thank you for the outpouring of sympathy and support from all who knew them and from people near and far who did not. I thank John, Cindy, and Eric and many others for all they have done and will do.
ROBERT
The great gift that was Robert…(never call him Bob)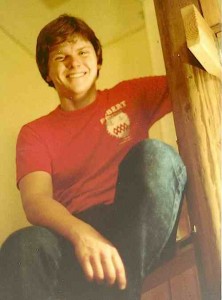 Robert found and radiated delight in every idea, experience, and person.
His life showed that a man is so much more than his resume
Flashes of memory:
Trying to contain the unstoppable two-year old with long blond curls
Watching him build in summer school, with John, during the Vietnam war, under the supervision of a conscientious objector, a moving wooden tank that would hold both of them
Partnering with John to start the European candy store during our 6 month Winnebago trip to Europe in 1972
Creating his most prized memento of the trip by accidentally pressing his windbreaker into primer paint at the top of the Eiffel tower
Seeing him learn practical engineering while hopping up his moped in high school
Rebuilding car and motorcycle engines and three speed bicycle hubs
Sailing the Hobie Cat carried atop our motorhome Jumbo and sailing the San Juan islands
Making a sailboat remote-controlled using a fischertechnik construction set
Building and racing remote-controlled cars
Sharing the vicissitudes of his relationships before he met Ana-Maria, and the joy of his life after he met her and they had two amazing daughters
Learning about the innovative products he designed with his team for many companies
Talking about and working on our campers and 4-wheel drive vehicles
Seeing him redesign and remanufacture almost anything to make it better
                   — when Robert did it, it looked and worked great
Supporting me in my loss of his mother Polly and my second wife Joyce and encouraging me to find future happiness
Sharing his love for words, tools, and welding
Camping in Death Valley, Anza-Borrego, Manchester, Cambria, and many other parks of the West
 Hour-long phone calls that always ended with mutual "I love you"s
Always meeting and parting with a kiss
Robert and his family died doing what they loved. They lived a life with no regrets. If Robert had read about this accident happening to another family, he would have explored how to prevent such tragedies by improving the design of vehicles, their control systems, and the roads on which they travel. The Robert Howard family would have wanted no better legacy than to see their deaths as an impetus toward that goal.
Anyone learning of this event will realize that they have taken for granted the people in their own lives. Imagine how we would treat each other if we knew that those we care about might be gone in an instant.
I heard that when Buddha was asked, what is happiness? He replied, "Grandfather die, father die, son die" Buddha was right: No parent wants to outlive his child.
I rejoice in what I had and what I have.
Goodbye, Robert I will love you as long as I live.